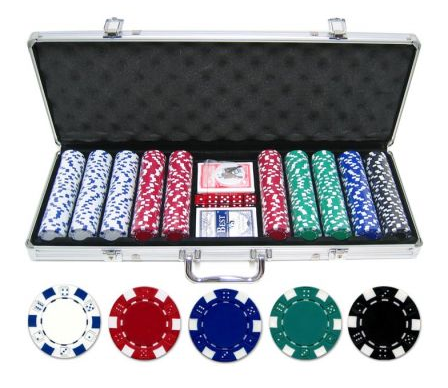 Did you know that poker chips expire? As with many other things in life, poker chips do in fact have an expiration date. This expiration date is determined not by freshness, as with food, but by the wishes of casino bosses. This date can be as short as a few months or as long as a decade or two after the chips are issued.
Why Do Poker Chips Expire?
The expiration date for poker chips is issued several months in advance. Because expired chips lose their face value, anyone who still has these chips in circulation after that date will be unable to use them in a game or unable to cash them in. This law of face value loss for expired poker chips was instituted in the late 80s in an attempt to cut down on fraud and counterfeiting in the poker world. Prior to 1987, nobody cared what casinos did with their chips. However, the process is very different today.
The state of Nevada issued Regulation 12 in 1987. Regulation 12 stated that poker chips were the property of casinos, thereby prohibiting gamblers from using the chips as currency. The law also required executives to destroy expired chips according to state specifications. This law was instituted to help decrease the amount of fraud and theft in casinos. Regulation 12 also helps prevent counterfeit chips from entering the casino building.
Some players were displeased with the new law, which prevented them from paying off debts with chips. Under Regulation 12, casino chips can now only be used as a cash substitute during the game itself and not as currency away from the gambling tables. When players cash in their chips, cashiers are required to ask the player for his or her card as proof that these chips were earned during the game. If a person is unable to prove the origin of the chips, the cage is allowed to refuse to cash them. According to state law, a casino can refuse to cash chips if the casino "knows or reasonably should know" that the chips were not obtained by gambling.
Bringing in the New and Destroying the Old
When a casino decides to incorporate a new poker chip set into its games, it must submit its plans to the Gaming Control Board stating the design of the new chip and all security features. These security features often include radio frequency identification tags and ultraviolet markings. The datasheet for the new poker chips set must also state the plan the casino has for disposing of the old chips.
In order to properly dispose of chips, a casino is required to consult with a board-approved disposal company. At times, the disposal company can be the same one that manufactured the chips. Expired chips are loaded into a truck and crushed by a tumbler into dust. Gaming regulators are required to be present in order to run an audit and to witness the actual destruction.
Destruction of old poker chips makes room for the addition of a fresh new design. Keep in mind your reason for having a high-quality poker chip set and order accordingly.