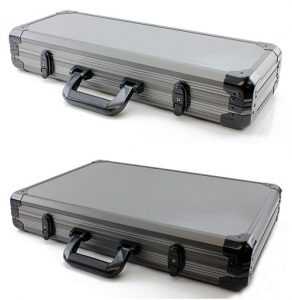 Ever since the poker craze started getting popular back in the early 2000s with the World Series of Poker and online poker sites, almost everyone we know had a 500pc poker set at home. The poker chips were held in a silver aluminum case and the inner chip rows were made of plastic or thin pieces of wood. When the case was full of poker chips, the case weighed almost 20 lbs. The weight put a lot of stress on the handle and latches.
We have heard from customers that they loved the poker chips but would always complain about the poker chip case being too weak. We asked our suppliers to build a stronger case but cost and development fees would price the poker sets too high. We did make some improvements to the existing case by having stronger handles and thicker inner chip trays.
Back in 2015, we started searching for suppliers who could help us build the ultimate poker chip case. After researching many manufacturers and buying multiple samples to test, we finally found the right partner to help build, in our opinion, the best poker case in the market. After several months of testing and modifying, we finally came up with two cases, the 500pc heavy duty poker chip case and the 1000pc heavy duty poker chip case.
The new poker chip cases are completely different from your standard case. The aluminum material is thicker. We reinforced the corners with aluminum bumpers. We used latches normally used in heavy-duty tool cases. The inner chip tray is completely made of solid wood that is machined to hold the poker chips securely. The handle is larger and has a rubber lining for comfort. Also, the overall thickness of the case is almost double of a standard poker case.
After finalizing the design of the case, the cost of each case went up a lot. Just the case alone costs more than some of our complete poker sets with poker chips and accessories. We planned to use these cases for all of our poker sets but ultimately decided to sell them as an accessory to keep costs down.
Currently, the two poker cases have been selling for over two years and we have received extremely positive reviews. Most buyers posted that they were hesitant because the case alone costs more than a complete poker set, but once they received it, they were very happy with the purchase. One of the funniest reviews from a customer said, "Strong enough to carry the Nuke Codes."