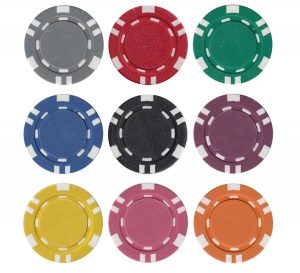 One of the issues with standard casino style poker chips is they are too heavy to conveniently carry around. Packing an extra 20 pounds in your luggage so you can play poker with your friends might be possible but not very practical. The solution? Mini Travel Size Poker Chips!
Unlike 11.5 gram and 13.5 gram poker chips, these chips were meant to be lightweight and feature no metal insert. The mini poker chips weigh in at 0.0624 ounce (1.77 grams) each and a full set of 500 would weigh less than 2 pounds. At 7/8 inch (22 mm) in diameter and 1/10 inch (2.66 mm) thickness these poker chips come in at a little bigger than a nickel and only about 1/3 the weight of a nickel. We carry them in 9 different colors and they are available for purchase in rolls of 50.
Finally, the design is not poker specific so it can be used anywhere. We have seen them used as counters in role playing games, travel poker sets, replacement for paper currency, board game tokens, game pieces, and more. Want to save table space? Replace your cardboard or paper money when playing board games. Want to play games while traveling? Take some playing cards and a bagful of mini poker chips. Tired of using pennies? These chips are small and compact but not so small and light that they are hard to pick up or use.
If you are looking for a easily portable solution to play games with your friends, here it is: Mini Travel Size Poker Chips