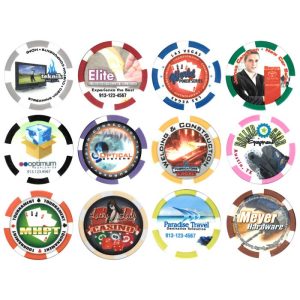 If you love playing poker, chances are good that a large part of your romance with the game involves the fancy chips that represent the cash you contribute to the kitty. What could be more rewarding than being the proud owner of a massive stack of chips? Whether you just stare at them, shuffle them or let them run through your fingers, poker chips are downright sexy.
Believe it or not, the history of poker chips is not all that long. Neither the pharaohs nor the Roman emperors used poker chips as tokens in any of the games they played. In fact, poker chips didn't come on the scene until the 19th century when gaming houses that featured poker games began providing their own standardized game pieces. Even then, they looked nothing like today's chips. Because it was so easy for forgers to duplicate them, the establishments eventually branded them with their own unique designs. When even those measures proved ineffectual, the clay poker chip came into being in the late 1880s.
The poker chips of today have continued to evolve with the times. They are now made of a composite that includes clay as one of its components, although they are much sturdier than tokens made only of clay. In addition to these materials, you can easily find chips made of ceramic, both at casinos and in the homes of poker aficionados. Even though well over a century has passed since the first individually branded poker chips, forgery remains a problem. For that reason, manufacturers have worked very hard to make poker tokens even more difficult to counterfeit than even U.S. currency. These days, they are embedded with microchips, stamped with serial numbers and provided with many other unique attributes that make them nearly impossible to forge.
You already know that each casino has its own specific chips that cannot be used anywhere else – unless, of course, the gaming establishments are owned by the same company. You might enjoy collecting tokens from all of the gaming houses you visit. Most likely, however, you didn't keep a $100,000 Paris Casino chip as a souvenir. Unless you are a major high roller, you probably have never seen the $1 million and $5 million marks that are available to celebrity players at most casinos. That doesn't mean you can't be part of the poker chip customization fun.
Imagine that you're planning a night with the guys or a gathering of co-workers. Whether you are all card sharks or amateurs, wouldn't a few hands of poker be a great way to pass the evening? Sure, you could go out and buy those anonymous plastic chips that often come with decks of cards. But considering all of the cool customization options that are available to you these days, why would you? Instead of forking over a great deal of money for fancy casino chips, you can spend whatever you're comfortable with. Once you do, you and your friends can use the chips in lieu of money or cash them in when the fun is over. Here are some ideas for stocking your poker arsenal with the customized poker chips that will set your event apart from the rest.
Use Labeling Software To Customize Your Chips
If you like to let your creativity take wing and are as much of a computer fan as you are a poker lover, making your own customized poker chip labels can be a fun way to marry your favorite hobbies. Just install chip label-making software on your computer and then have a blast creating your own designs or working from the pre-existing templates provided with the program. You can even integrate your own personal artwork or photos if you choose. Then, simply use your laser or inkjet printer to print out the labels, which can be attached to one or both sides of your poker chips.
Purchase Customized, Pre-Made Chips
Perhaps you simply don't have time to design even your own stick-on labels. Maybe you need chips for a large event such as a family wedding, anniversary, birthday or bar mitzvah. If you don't have the time or the ability to do it yourself, never fear. We will be happy to work with you to make your perfectly personalized poker chip come to life. You won't need to lift a finger, other than the one you will use to open your wallet.
Poker chips can perform numerous functions. They can be simple plastic markers or they can represent millions in cash. They can be one-of-a-kind and studded with gems; others can be fashioned out of basic wood or cardboard. Whichever type of poker chip you choose to hand out at your next gathering, why not make it reflect you in a unique way that your guests will not soon forget? If you do, we're sure you'll score a royal flush!