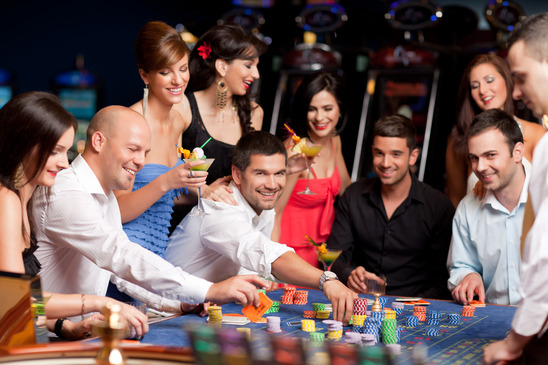 Hosting a casino night that every attendee will remember takes some planning. The list of poker supplies needed will include the customary items including a table, poker chips, and cards. The usual fare of food and drink also makes the list. However, to reach the status of notable will require a bit of splash with the same strategy as a casino opening. This means decorations, music, and gift bags to add to the evening's highlights.
Poker Supplies
Ask a few guests to bring something off the list if they can. Depending on the number of guests, this should include a poker table or two, chairs, poker chips, and playing cards. If none of the guests coming own a poker table set, this would be a great time to invest in one of your own. Two or three players can bring their own chips set, and you can supply the cards, timers, and card shufflers since this is your soiree.
Food and Drink
Make your casino night a potluck with guests bringing their best dishes as admission at the door, with you providing a variety of drink choices. Have a full stock of alcoholic and non-alcoholic beverages, and get a few of the top poker snacks like pretzels, peanuts, and mints.
Decorations
This is the splash component mentioned earlier. Go all out with a dedicated table that has casino night-themed decorations where the gift bags will go (more on those in the next section). Mylar balloons and several sets of hanging, cascading spirals can also add a lot. And don't forget drink coasters meant to look like poker chips.
All the paper products such as plates, napkins, and cups should have card suits embossed on them. Add to the setting by having guests dress up in their black-tie best. Or go the more light-hearted route by wearing a top hat or shirt with casino and poker insignia. This will add instant conversation throughout the evening. Include your guests by purchasing a combination of visors and hats for them to choose from.
Gift Bags
The final touch to your casino night is gift bags. Have a mixture of gag gifts and nicer items. Female guests might enjoy dice earrings, suit-shaped soaps and candles, and a gift card from a retailer such as Victoria's Secret. Male guests will love beer holders, key chains with poker chips, and a gift card from a sports shop.
As you can see, the planning of your casino night will be as much fun as the actual action of the evening. While this list may scratch the surface of what your options are, let your juices flow to personalize it even more. At the end of the evening, have fun counting your winnings while cleaning up the space.