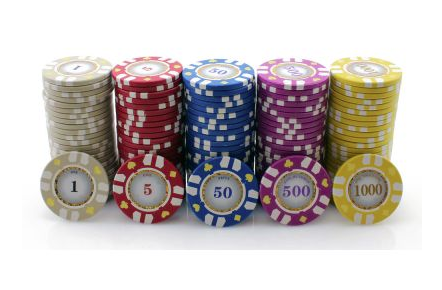 Poker is a game enjoyed by many people across the United States. While some choose to play the game in a casino environment, others choose to play at home with friends and family. The first poker "chips" were made from gold pieces and coins. In the late 19th and early 20th centuries, the first clay poker chips were created. These chips could be made in virtually any color with any design. Poker chips today are made from a wide variety of materials including plastic and ceramic. Each type of chip has its pros and cons.
Basic-Grade Poker Chips
Supermarket - The cheapest type of poker chips are the plastic "supermarket" chips that you'd find in a poker set for children and not meant for real poker play. These chips are not weighted well and are often difficult to stack.
Super Diamond - "Super Diamond" chips are better weighted than "supermarket" chips at 8.5 ounces. They are normal size and can be hot-stamped for customization.
ABS Plastic - ABS plastic chips are also known as "Dice Chips" because of the ring of card suits around the outer edge. While these chips are of relatively higher quality, they are not true "casino-style" chips.
Faux Clay - Faux clay chips are relatively affordable for the home poker player, but can be difficult to find. They are significantly less slippery than the Super Diamond chips and stack easily.
Mid-range Plastic and Injection-molded Plastic - Mid-range plastic chips undergo a manufacturing process that makes them feel softer than other plastic chips. They are less slippery than ABS plastic. Injection-molded chips are slightly better in quality, but they are not widely sold.
Clay Composite vs Clay
Clay Composite - Clay composite chips are only one step down from casino-grade clay chips. They are manufactured using an injection molding/compression molding process. This process creates a chip that is extremely close to the real deal. In fact, some people have said that if you are blindfolded, you will be unable to tell the difference between a true clay chip and a composite chip. These chips have become extremely popular among home poker players in the past few years and often feature a metal insert to give them a weighted feel. Composite chips look and sound very close to true clay chips, but cost around 30% less.
Clay - True clay chips are the most respected type of chip available on the market. Most clay chips today feature the addition of chalk or sand to strengthen the clay component. These chips are made using compression molding to bond the materials together. Because clay chips are not mass-produced, they often display minor imperfections. These chips have an outstanding "splash" sound and a great texture. They are more customizable than mass-produced chips and are available in a wide variety of colors, designs, and weights. These chips are the most expensive of all poker chips but if you don't mind spending the money, consider these for your home poker set.
The game of poker is a great way to spend time with friends and family. Make the experience worthwhile by investing in high-quality poker chips.