There is nothing like a game room to bring the whole family together. From billiards to board games, air hockey to poker, you can fill this space with entertainment options that will please everyone in the house, not to mention everyone's friends as well. There is just one thing that you should bear in mind when you think about your new game room: Keeping it organized is crucial. No one wants to be in a cluttered, disorganized space that hampers their enjoyment of the various activities to be found there. Take some of these tips to heart, and your game room will become the hub of fun and excitement you have always wanted it to be.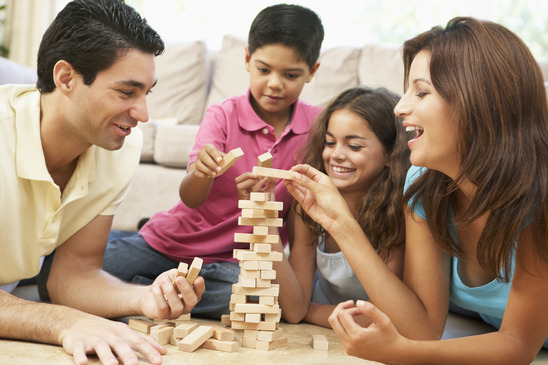 Corral Your Electronics
Like it or not, your game room is populated with a plethora of electronic equipment: Video game consoles, DVD and Blu-Ray players, perhaps an old-school VCR, and of course, a TV. Each piece of equipment has its own set of wires, which can quickly become a rat's nest of cords once all of the machines get tangled with each other. Keep wires contained with zip ties, and use colored tape on the end of each cord to keep them all straight.
Along with all of these gadgets come music, games, CDs, and DVDs. If you want to retain your sanity, find a way to organize these. Moving forward, make a resolution to download the majority of your games, thus negating the need for continuously creating more space. For those that you already have, consider trashing the boxes and putting the games into disc albums that can be easily stored on shelves. Shelf storage systems or cabinets will both work quite well for keeping all of your discs or boxes under control. Another idea involves purchasing several vintage suitcases of different colors at an estate sale or an online auction site. Place games of different categories in each of the cases and stack them in a corner of your game room. The key is to enforce organization on yourself and all other users of the room. Failing to do so will result in lost or incorrectly labeled movies, music and games.
Keep the Noise Down
If you have a lot of serious electronic gaming going on in your house, you may be getting a little tired of the booms, shrieks, and squeals that are leaking out of your game room, even when the door is closed. If you want to keep your games at top volume without severely irritating those around you, equip your game room with soundproofing materials such as upholstered furniture, thick rugs and carpets, as well as curtains on the windows. If you're really serious about this task, purchase soundproofing tiles for your walls, too.
Poker Table and Supplies
Whether you just dabble in the occasional poker night with your buddies or are an expert high-stakes player, it is important to stack the deck in your favor by keeping all of your poker table supplies accessible and organized. You know how easy it can be to accumulate numerous items that can get misplaced or broken in a flash. Card shufflers, cup holders, and poker chips can quickly create chaos if you don't have proper storage for them. Instead of throwing all of your chips into an empty cardboard box, try purchasing a poker case. Often, these portable items contain trays that allow for easy storage of at least a thousand chips. Devote some shelf space to your buttons, shufflers, chip spacers, extra chip trays, prize wheels, trophies, plaques. and any other poker-related paraphernalia you might want to store. By taking the time to make a place for everything, you can ensure that your next poker event will run a lot more smoothly.
Board Games
There is nothing more frustrating than finally deciding on a particular board game after much debate and deliberation among the various players, only to find that crucial pieces or cards are missing. To keep this from happening, place all loose pieces, dice, and cards in a re-sealable plastic bag immediately after opening your board game for the first time. Make sure that players scrupulously place everything back in the bag as soon as game play has stopped. Furthermore, you can lengthen the life of the game's cardboard container by setting it on your shelf like a book, not on top of other games. Doing so will also help you quickly access that particular game in the future.
Pool and Ping Pong Tables
Unlike board games that can be replaced at minimal cost, your pool and ping pong tables are expensive, as are the accessories that accompany them. They also can take up a great deal of space. If, like so many families, you want to have your cake and eat it too by playing several table games, consider purchasing a three-in-one table. Use a pegboard to hang the slots and other accessories in an organized fashion that is out of the reach of small hands. Obtain a bucket for your ping-pong balls, and use the pegboard to hang it on.
By their very definition, games are supposed to be fun. This should also apply to the room where you play them. By being organized and systematic, you and your family can spend your time actually enjoying what your game room has to offer. Gone will be the days when you dreaded opening the door, afraid of what you would see, and intimidated by the prospect of clearing enough space to enjoy your leisure activities. Take the work out of playing games by instituting some of these strategies, and you'll be amazed at how much fun you and your family will have.