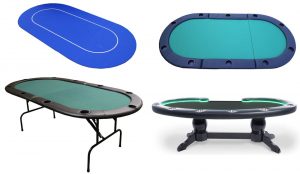 With the World Series of Poker final table currently underway, we wanted to post about poker tables. Poker tables come in three different designs and each design is suited for different types of play and much of it depends on how often and where you play.
The most simple and practical is the rollout poker table. It is lightweight and portable and can be carried practically anywhere. Some may ask how is this better than playing on just a plain dining table? The answer lies in the padding and surface material. When dealing cards, you need the surface to be slick enough to slide but not so slick that is flies off the table. Once dealt, you also need to be able to pick the cards off the table easily. The padding and surface material combine to make dealing and playing card games easy.
An upgrade to a simple rollout table would be a poker table top. The poker table top will give a more casino-type feel. Folding table tops have more features like cup holders and padded armrests for long-term comfort while playing. The advantages are they are lighter and easier to store than full-size poker tables while still giving you a realistic casino feel. Poker table tops are by far our best sellers and are suitable for most people that play card games regularly.
The final type is a furniture poker table. Furniture poker tables can start as low as $250 and can go up to over $2,000 fully customized. The starting models feature folding legs making storage easier but they are heavier(50-100lbs) so they are not as easily movable as poker tabletops. The higher-end models feature dining table tops so the table can be used daily and converted to a poker table when needed. Furniture poker tables are great because it gives you the most authentic look and feel. We suggest a furniture poker table if you have the space and host card games regularly with friends and family. It definitely adds to the excitement and fun of the game.